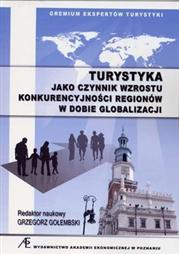 • Eastern Europe's Tourism. Old Wine and New Bottles? / Jafar Jafari
• Branding the New Eastern Europe / Julio Aramberri
• Consolidation Processes Influencing Structural Changes on the European Tourism Market / Nevenka Čavlek;
• Strategy for Changes in Polish Tourism – Tourism as a Social and Economic Stimulator for the Development of the Polish Regions / Anna Somorowska;
• An Analysis of the Tourist Flow in China's Outbound Tourism / Yanjun Xie, Miao Li;
• Understanding Poland's Ancestral Tourism Market: An Analysis of Motivations Based on Three Generations of Polish Community Living in Derbyshire, England / Joanna Alder;
• Personalizing and Customizing All-inclusive Heritage / Avital Biran, Gila Oren, Yaniv Poria
• The Share of Online Purchases in the Tourist Industry: A Comparision Among European Travellers to Turkey / Meltem Caber, Tahir Albayrak;
• Poland's Accession to the EU: The Impact of New Environmental Standards on Tourism / Katarzyna Dąbrowska-Zielińska;
• Historic Traditions Combined with Old Polish Cuisine as a Tourist Attraction in Poland / Józef Grochowicz, Ewa Czarniecka-Skubina, Dorota Nowak;
• Sport and Health Hospitality: A New Challenge for Eastern European Tourism / Ram Herstein, Yoram Mitki;
• Using the Greenways Concept to Develop Sustainable Tourism in a Non-traditional Tourism Destination (Success Story) / Valeria Klitsounova;
• Branding in Rural Tourism. Lessons from Western to Central European Countries / Janusz Majewski;
• The Attractions and Shortcomings of Poland's Tourist Offer as an Example of an Eastern Europe Destination. Analysis of the Internet Content as a Contribution to the Discussion / Bartłomiej Pacuda;
• Contested Discourses and Practices in Tourism Development : Zakopane as an Example / Carina Ren;
• Strategic Planning of New Tourist Products in the Leszno Region as an Answer to European Tourism Tendencies / Joanna Śniadek, Alina Zajadacz;
• The Revitalization of Polish Spas / Adam R. Szromek;
• Forms of and Prospects for the Development of Gulag Tourism in Russia / Tomasz Wites;
• The Future of the Hotel Industry in Poland / Ewa Wszendybył-Skulska.
Monografia jest dostępna w wybranych bibliotekach uczelni turystycznych, znalazły się w niej teksty referatów wygłoszonych i złożonych podczas Konferencji: Tourism in The New Eastern Europe : Global Challenges – Regional Answers (29-30 listopada 2008 roku), zorganizowanej przez Wyższą Szkołę Hotelarstwa, Gastronomii i Turystyki w Warszawie.
Teksty referatów dostępne są ponadto na stronie internetowej Konferencji: www.conference2008.wshgit.edu.pl/images/sympozjum.pdf

Źródło: Katarzyna Ferfet, informacja nadesłana 02.12.2008
Foto.: 1. Tourism in The New Eastern Europe